The ideal introduction to motorcycling for kids from 2-5yrs, No Fuel or Smell, No chance of Burns, just Lotsa #OSETFun
The OSET 12 Racing gives the ultimate performance for 2-5 year old riders! The 'Racing' version includes features never before seen on such a small bike. A frame based on the larger OSET models, disc brakes, adjustable suspension, a 600w OSET motor and '2 dial' controller to create a better experience for riders and parents
The OSET 12 Racing is a high specification bike that can grow with the rider. This bike can be used by children who have never ridden before, and can grow with the child as they venture into more challenging riding terrain. This is a high specification starter bike, capable of getting children off to the best possible start.
The OSET 12 Racing features a host of high end components. Thin grips for small hands, disc brakes front and rear, padded chin guard, alloy wheels, hubs, bars and pegs, and high grade adjustable suspension. It's easier to learn to ride than a bicycle, but capable of taking first steps into competition.
Safety features are paramount. A magnetic lanyard cut-out switch with a strap goes around your child's wrist, so that when the lanyard is pulled, power is switched off comes as standard. A separate key switch is easily removable by the parent when it's time to take a break! The OSET controller has been designed for our exclusive '2 dial' system, which allows parents to easily adjust the characteristics of the bike. By simply removing the rubber bung in the 'tank' area, the responsible adult can adjust the speed and response of the bike. It can be set from a very mellow machine at walking pace and low power, all the way up to maximum power for more experienced riders. For those learning to ride, the throttle response can be set so the reaction of the bike to throttle openings is softened.
The 12.5 Racing is truly a machine to put a smile on the face of children and adults alike. This bike raises the bar for tiny motorcycles, and is so versatile it can suit anyone from first time riders, to highly experienced 5 year olds!
  Ride NOW Pay Later with zipMoney - 6 months interest Free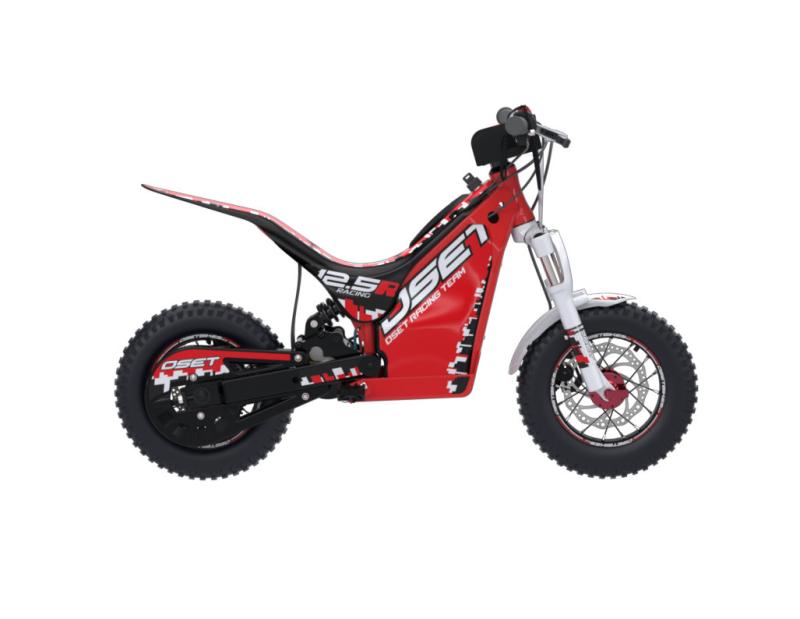 Technical data
| | |
| --- | --- |
| Wheelbase - 725mm (28.5") | Seat height - 390mm (15.0") |
| Ground clearance - 152mm (6.0") | Handlebar height - 650mm (25.6") |
| Wheels - 12.5" alloy rims/hubs. | Suspension - Front telescopic, 40mm travel. Rear shock, preload adjustable, oil dampened. |
| Motor - 600W 24V OSET neodymium magnet DC motor. | Controller - 24V OSET, adjustable for speed & response. |
| Charger - 2 amp 24v. | Age range - 2-5 years' old. |
| Rider weight limit - 30kg | Bike Weight - 26kg |
Find your nearest dealer