The Lithium powered OSET 20.0R MKII - A true innovation


Significantly increased run time
1+ day trials riding / 3+ hours off road riding

Reduced bike weight  
Over 8 kg lighter then the lead acid battery version

'Electric Bolt' graphics set

The lithium powered 20.0R MKII is a true innovation and the machine of choice for riders interested in maximum run time, reduced bike weight & ultimate performance. It is the bike that riders and parents choose to enter the world of trial competitions. The power and response can be adjusted for any riding style, while the fully adjustable suspension can be set up to suit rider weights and preferences. This bike is loved by kids and adults alike for its sheer versatility and fun.
The lithium powered OSET 20.0 R MKII has been meticulously designed to help the rider develop and enhance their motorbike skills and confidence. Being electric they have no hot parts, require no petrol, produce no fumes and are virtually silent, meaning riders can use them everyday in places other bikes cannot go.
Key Features: 
Powered by the OSET 20Ah, 48V Lithium battery, with charging, discharging & diagnostic ports
'Electric Bolt' graphics.
A strong frame, thin grips, a padded chin guard covering the steering stem combined with a magnetic lanyard cut-out switch ensure safety is the priority.
Separate key switch is easily removable by the parent when it's time to take a break!
Exclusive OSET wide rear rim and 3" wide deep tread competition motorcycle tyre.
OSET controller with our exclusive '3 dial' system, which allows parents to easily adjust the power, speed and response characteristics of the bike
It can be set from a very mellow machine at walking pace and low power, all the way up to a competition level machine with maximum power.
For riders aged 8+
RRP: £2,799.00
"The OSET is just the best thing my son has had! He has the freedom of the outdoors and quality time with his dad away from technology. My 9 year old has the 20.0 R so his dad had to go out and get the 24.0 R". - Katrina Meed, California, USA 
The lithium powered OSET 20.0 Racing MKII is an innovation in electric bikes and has become the gold standard of youth competitive trials and electric dirt bikes the world over.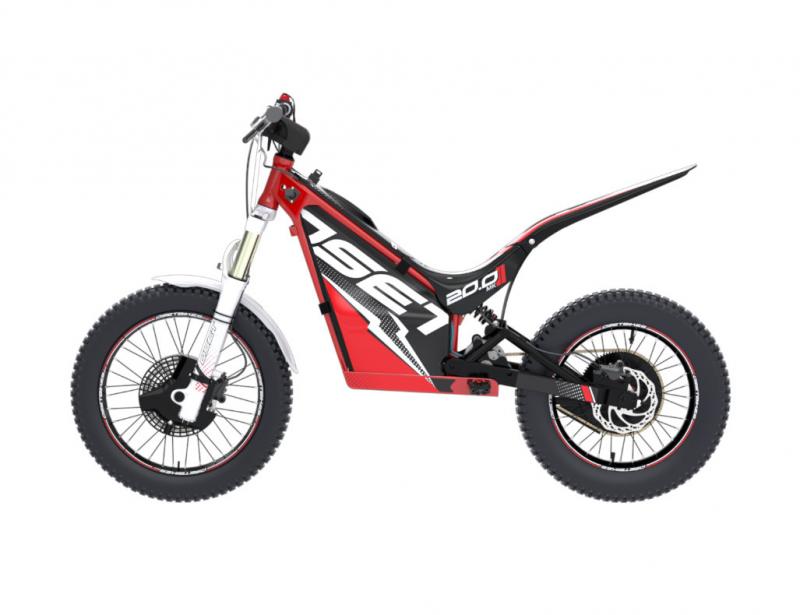 Technical data
Wheelbase - 1050mm (41.3'')
Seat Height - 550mm (21.6'')
Ground Clearance - 290mm (11.4'')
Handlebar Height - 980mm (38.6'')
Wheels - 19'' front alloy rim/hub. 14'' competition rear alloy rim/hub
Suspension - Front telescopic air fork. Rear shock, preload adjustable & oil dampened.
Bike Weight - 34.7 kg (with battery)
Brakes - Front 180mm & rear 160mm hydraulic disc.
Motor - 1200W 48V OSET neodymium magnet DC motor.
Controller - 48V OSET with thermal cut-out, adjustable for power, speed & response
Batteries - 1 x OSET 20Ah, 48V Lithium battery, with charging, discharging & diagnostic ports.
Charger - 3 amp 48V, Lithium Ion.
Age Range - 8+ years old.
Rider Weight Limit - 110 lbs (50 kg)
RRP - £2,799.00
Find your nearest dealer