EASTER SALE - SAVE $500

The ultimate electric dirt bike and competition ready MX beginner bike for riders aged 4 - 7yrs; Nippers and D1!
The OSET MX-10 is a revolutionary electric mini dirt bike for off-road and motocross for all ages or as a competition ready MX Nippers bike for riders aged 4 - 7.  Compared to the traditional petrol bike sold for the last few decades, this machine is a leap forward in performance and usability.
A ground up design features a steel frame, powerful OSET motor, controller and OSET 20ah lithium battery, designed to work in unison on this machine. Very few components are shared with other OSETs. This was truly a ground up design that takes OSET into new territory and new heights. A 48v OSET drive system (complete with 3-dial adjustability) and with top specification components, this machine has the potential to re-define the starter MX market around the globe.

The MX-10 features a custom upside-down fork built to OSET's specifications and an adjustable oil shock at the rear. Hydraulic disc brakes with reach adjustable levers for small hands provide plenty of stopping power.
With the dials turned up, the acceleration is spectacular. With them turned down, the MX-10 is very tame and ideal for first timers. This bike will grow as the rider grows!
The MX-10 features an adjustable seat height – giving even the smallest riders more confidence as they can touch the ground. When lowering the bike, the geometry alters to provide more stability for raw beginners. The front forks, rear shock and brakes are all designed to suit the bike and young riders – they're lightweight and adjustable because one size does not fit all.
One of the biggest hurdles riders must overcome when riding a traditional petrol starter machine is the power delivery. With most of the power at the top of the rev range, many kids are simply too scared to give it a handful. The MX-10 resolves that issue. The power, throttle response and top speed can all be easily altered to suit the rider.
All riders can build confidence and speed safely. The linear, electric power is easy for children to master and allows for parental control.
And we're not finished there! Electric power means no kick start – which means no more running across a track to help get the bike restarted. It also means no hot exhaust, so no one is going to be scorched accidentally. And the weight means when they inevitably slide off, they can pick the bike up relatively easily and get started on their own.
As practice locations become increasingly scarce, the virtually silent MX-10 opens up many more options than its petrol counterparts.  It means more time on the bike, more skills and more fun!
EATSER SPECIAL - $4750 plus $85 Delivery**
*Note: All prices are GST inclusive
** Delivery to business address or local depot for collection (no residential deliveries)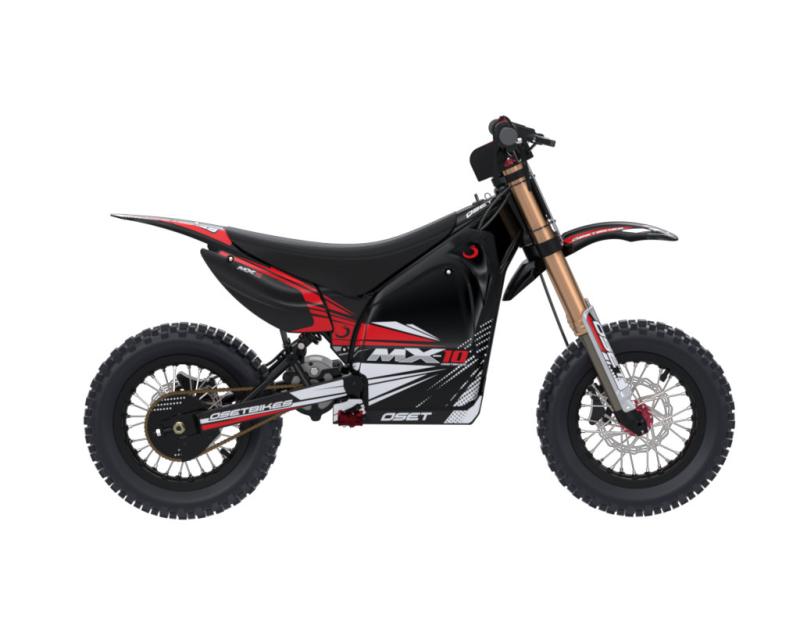 Technical data
Wheelbase - 940mm
Seat Height - Adjustable, 3 settings. 490 - 515 - 540mm
*Adjusted via top shock - 3 positions
Ground Clearance - Adjustable, 3 settings. 170 - 200mm
Handlebar Height - Adjustable, 3 settings. 805 - 815mm
Wheels - 10'' x 1.60'' front & rear alloy hub/rims
Suspension - Front USD air fork, adjustable rebound & preload. Rear shock, preload adjustable & oil dampened.
Brakes - Front & rear 160mm hydraulic disc.
Motor - 1400W 48V OSET neodymium magnet DC motor.
Controller - 48V OSET with thermal cut out, adjustable for power, speed & response.
Batteries - 1 x OSET 20Ah 48V Lithium battery with charging, discharging & diagnostic ports.
Charger - 3 amp 48V, Lithium Ion.
Age Range -
Kids MX Version 4-7 years old
Adult Mini Bike Version 4yrs UP
Bike Total Weight 37.2kg (Bike 30kg, Battery 7.2kg)
Rider Weight Limit - Kids MX Version - 40kg
Adult Mini Bike Version - 80Kg
EATSER SPECIAL - $4750 plus $85 Delivery**
*Note: All prices are GST inclusive
** Delivery to business address or local depot for collection (no residential deliveries)
Find your nearest dealer