OSET20Lite - currently SOLD OUT sorry!
2020 OSET 20 Lite, $3100* is the 16 chassis with 20 wheels for those talented to take on even bigger obstacles with a smoother ride!
The OSET 20.0 Lite is an 'in-between' machine for riders a little too big or talented for the 16.0, but not quite ready for the size and weight of the 20.0 Eco or Racing. It features the ergonomics to the OSET 16.0, but with bigger wheels that make conquering those bigger obstacles a little easier.
The 20.0 Lite uses the OSET 20.0 48v motor running at 36v for gentler power. The air/spring fork and coil spring shock are adjustable for both compression and rebound. OSET custom pegs & hubs, hydraulic disc brakes & OSET bars and grips finish a very complete package.
The 20.0 Lite weighs in at only 2kg heavier than the 16.0, and over 5kg LESS than the 20.0 - proportionally this is huge for growing riders!
Thin OSET grips, a padded chin guard covering the steering stem a magnetic lanyard cut-out switch has a strap that goes around your child's wrist, so when the lanyard is pulled, power is switched off. A separate key switch is easily removable by the parent when it's time to take a break!
Safety features are paramount. The OSET controller has been designed for our exclusive '3 dial' system, which allows parents to easily adjust the characteristics of the bike. By simply removing the rubber bung in the 'tank' area, the responsible adult can adjust the speed, power and response of the bike. It can be set from a very mellow machine at walking pace and low power, all the way up to a competition level machine with maximum power. For those learning to ride, the throttle response can be set so the reaction of the bike to throttle openings is softened.
The 20.0 Lite has allowed children as young as six to compete in National Trials events. If the 16.0 is too small and the 20.0 Racing too big, the 20.0 Lite is just right!
OSET20Lite - currently SOLD OUT sorry!
  Ride NOW Pay Later with zipMoney - 6 months interest Free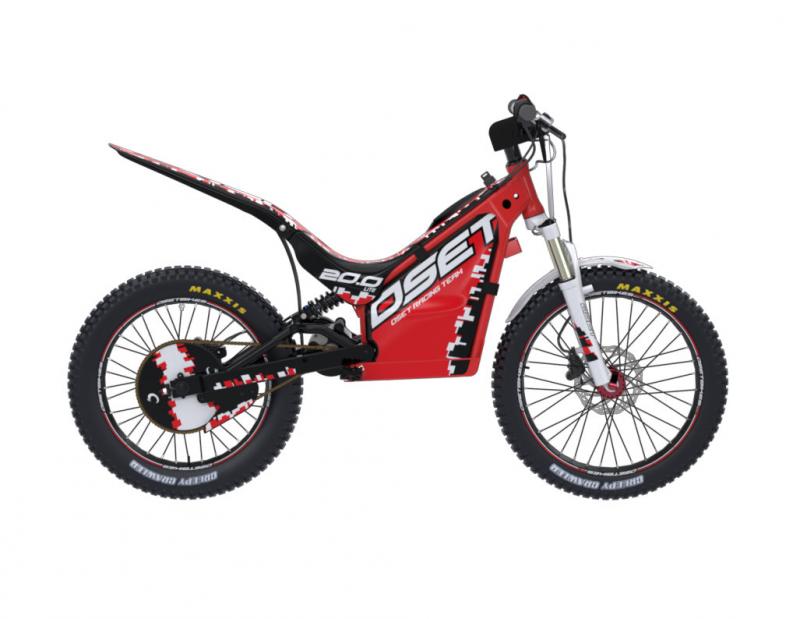 Technical data
Wheelbase - 960mm (37.8'')
Seat Height - 530mm (20.8'')
Ground Clearance - 290mm (11.4'')
Handlebar Height - 900mm (35.4'')
Wheels - 20.0'' alloy rims/hubs.
Suspension - Front telescopic, air/spring fork. Rear shock, preload adjustable & oil dampened.
Brakes - Front & rear 160mm hydraulic disc.
Motor - 900W 36V OSET neodymium magnet DC motor. (OSET 48V motor running at 36V).
Controller - 36V OSET, adjustable for power, speed & response.
Batteries - 3 x 10ah AGM SLA.
Charger - 2 amp 36V.
Age Range - 6-9 years old.
Rider Weight Limit - 90lbs (41.0kg)
Bike Weight - 34kg
RRP - AUD$3100 *Note: All prices are GST inclusive but exclude freight, and assembly charges. Please call your dealer to attain full price.
Find your nearest dealer